In all the excitement of getting a new furry friend, the sheer number of things on your shopping list can get quite overwhelming. From chew toys to ID tags, their bed to their grooming supplies, there's a lot to remember. So here's a handy list for you, so you don't forget something crucial when you welcome your first furry friend into your home.
A collar and leash
Whether you're picking your pup up from the pound or a breeder, you're going to need to get them home somehow. If they're small enough to carry, then that's fine, but their collar and leash will probably be the first thing you need to transport them. You'll go through a lot of collars in your pup's lifetime, but the main thing here is choosing one which will definitely fit. An adjustable nylon collar is perfect for their first collar.
Their crate and bedding
Crate training your pup is essential for ensuring they're well behaved, house trained, and will sleep through the night. It is crucial that they can sit, stand, lie down, and turn around in their crate. Whether you choose one with mesh sides or hard walls, their comfort is crucial, so be sure to fill it with comfy bedding and blankets – it'll help to house train them too.
Food and water
Your pup is going to eat a lot while they're growing up, so make sure you're getting a great deal of your puppy food. Before you bring your new furry friend home, ensure you have bowls set up in the area that will become their dining room. Keep their food containers away from this area and sealed to avoid them succumbing to temptation.
Grooming supplies
Dogs require a lot of attention and maintenance, and grooming will become part of your weekly routine. A toothbrush and toothpaste, the best flea treatment for dogs, a good quality brush, and even some claw clippers if you're feeling brave, are all essential. When it comes to flea treatment, be sure to check it is appropriate for puppies as well as older dogs. Once you settle into your grooming routine, it can become the perfect doggy-parent bonding time.
Identification
When you bring your dog home for the first time, they could be quite skittish. If they try to make a break for it, it's crucial that they have a collar on which contains vital information, such as your name and your contact details. Without this, and before your first vet visit for microchipping, the results could be disastrous. Don't turn up to collect your dog without bringing identification along with their collar.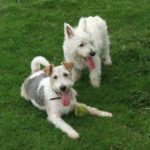 Toys
Pups love to play. It helps them to pass the time, but it also gives them mental stimulation – they're smart animals after all. Make sure you get a good variety of hard chew toys for gnawing, and soft, squeaky toys for playing. Choose ones which you can join in with, such as tug ropes, so you can bond and play together. And, most importantly, make sure they're durable and size-appropriate.
When you're preparing for a new pup, there can be so much to remember. As long as you get everything from this list, you should be good to go. Just don't forget the puppy treats!